Upgraded Solar Fountain Pump with LED Lights and 900 mAh Battery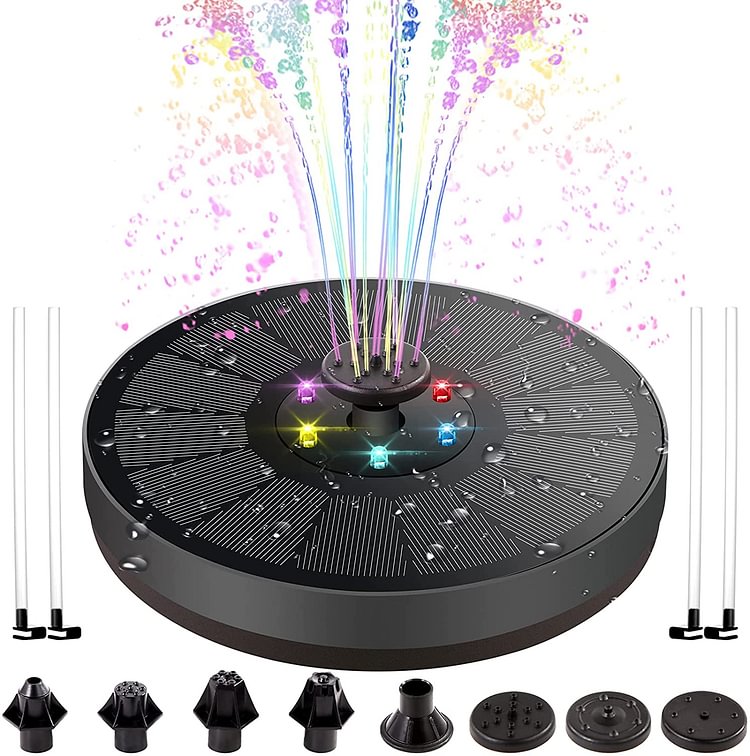 Upgraded Solar Fountain Pump with LED Lights and 900 mAh Battery
ITEM DETAILS
3W Solar Fountain Pump with Colorful LED Lights
Equipped with 6 colorful LED lights, these lights will light up at night (about 7 or 8 PM) automatically. RGB color auto-cycle setting makes your night more beautiful. The lights will not work if no energy. A full solar charge supports 4hrs lighting.




Anti-Drift Design
Do you worry about the solar bird bath fountains swing around the birdbath and make part of the spray to land outside of the birdbath onto the ground and empting the birdbath rather quickly, so you have to keep refilling? Don't worry at all! Woosir solar fountain is equipped with 4 anti-collision plastic tubes, It can fix the fountain in the middle of the birdbath,You never have to worry about running out of water!


7 Different Nozzles
Woosir solar water fountain comes with 7 nozzles, It can meet your different needs for water styles. It is easy to install in few seconds without tools required. Perfect for bird bath, small pond, pool, fish tank, garden decoration.


900mAh Battery
Woosir 3W birdbath fountain solar power with 900mAh battery backup can effectively store power to work at night with LED. Just place it in the water and it will work automatically in 3s once exposed to sufficient sunlight, up to 23.6 inch jet height on sunny days, about 11 inch on cloudy days. Note: During the day, the battery doesn't work and only stores energy, and it will work on fountains and lights at night.


Safety Protection and Long-Lasting
This solar fountain pump for bird bath comes with water-shortage protection and filtration box. Take protection when the shortage of water. Filtration box better for blocking dirt, dust, leaves to extends service life. Made of PET laminated solar panel ensure long-lasting use in harsh environments. Perfect for birdbaths, small pond, pool, fish tank, garden decoration, and water circulation for oxygen.


PET Laminate-Long Lasting
compared with the old model, the PET solar panel has a longer service life, and the surface will not appear yellowing and broken after long-term use.

3W Higher Power
Compared with the 1.4W and 2.5W solar fountains on the market, our solar fountains have higher power of 3W, 900 mAh battery can help spray higher and more stable.
SHIPMENT
Our carriers will differ according to each country to select the most suitable logistics solutions, in short, our goal is to secure peace goods delivered in the hands of every customer . FREE SHIPPING TIME: 3-4 days.