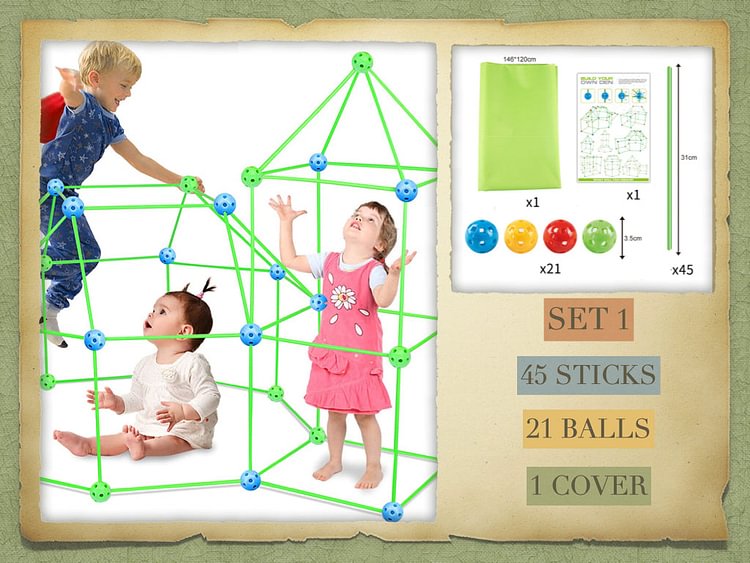 BUILDING THROUGH IMAGINATION

DIY 3D Play Sticks Design Building Tools are the ideal engineering gift for girls and boys. Building a big and complex fort can be full of challenges and fun for kids, even parents. A great memory together will bring endless fun to your kids. Parents can play with kids' creative DIY making sets to make tents, pirate ships, caves, rockets, castles, igloo, teepees, castles, and another hideaway.
Build whatever kids want to create for indoor and outdoor activities. They can even add a voila, bed sheet to build their hidden secret game base! Build whatever they want to create for indoor and outdoor activities.
Encourages creativity and stimulates the imagination and develops critical thinking skills: Your children can build their own fort and design a house, castle, rocket ship, and more! Our Fort-Kit encourages children to develop their imagination and problem-solving skills!
FEATURES AND BENEFITS:
DURABLE AND SAFE:

Our building set is made from solid non-toxic ABS plastic, ensuring long-lasting durability and the highest safety standards. Plastic sticks fit easily and securely into the connecting balls, which are both durable, easy to build, and quickly disassembled.

IDEAL GIFT FOR KIDS:

This easy-to-build and the strong castle is an ideal gift for children who are good at hands-on. This fort building is set to give a terrific way to help kids master basic engineering skills and unleash imagination while having lots of fun. Creative and imaginative toys can be played by 2-4 or more children. Children can play and enjoy the fruits of their labor in the tent built by themselves.
CAPTURE THE IMAGINATION:

Building different shapes of the fort can make children capture the imagination, they can build castles, mansions, rockets and etc. Kids would focus their thoughts on creating the perfect fort, which helps to improve imagination, problem-solving, and critical thinking.
PROMOTES TEAM BUILDING SKILLS:

Working with other kids helps promote teambuilding skills and how to work with others. It can even be something the whole family does together and can be done indoor or outdoor, making this a great group activity.
SPECIFICATIONS:
PACKAGE INCLUDES:
1 x

DIY 3D Play Sticks Design Building Tools