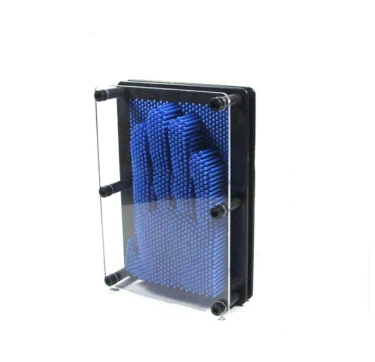 Create a unique pieces of art!
These custom designed Pin Art 3D Impression Toys are a must have! Designed with premium high quality material!
This Pin Art 3D impression toys never gets old. Pin Impressions slate is a classic desktop toy. Manipulate and mold pins allowing you to create your own designs. Enhance your creativity while enjoying hours of fun exploring several impression designs you can think off. You can produce multiple and whatever art you want by pushing objects into the Pin Art Toy.
The Pins will stay in place leaving an image of the object in the pins. You can make a pin impression of your hand or face, creating a gorgeous yet unique decoration for your desks and home offices. Even kids will enjoy and adore playing this toy over and over again. Encourage kids to play with their imagination and improving their artistry and cleverness. Make a huge "pinpression" on kids!
You can use your hands, face, feet or any everyday objects pressed onto the pins, which will create amazing 3D sculptures.
Also can create your imagining pictures.
Compact, creative, easy to play.
A great educational toy for your kids improving his creativity and imagination
Vibrant Colors
Excellent gift for birthdays and holidays
Specifications:
Size:

S(12.5*9.5*5.5CM) / M(17.5*12.5*5.5CM

)
Includes: