Moonstone Dreamcatcher Necklace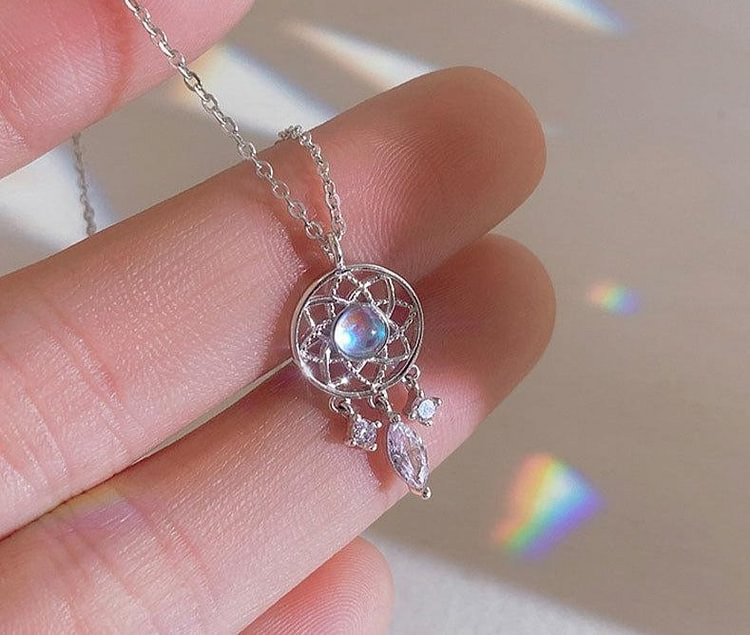 Moonstone Dreamcatcher Necklace
"Transforming the wonders of the universe into immaculate beauty"
Meaning:
As ancient as the moon itself, the meaning of Moonstone lies within its energy. This power can nourish, give passion, and awaken your energies; as well as heal and guide you to your inner path. The light moves across the stone much like moonlight would glide across a large body of calm water.

We recreated this timeless Native American tradition into a beautiful necklace. While the bad energy is trapped in the webbed portion of the dream catcher, the good energy trickles down the hanging crystals towards the heart.


Details:
Materials: Stainless steel and crystal
Specifications:
Chain is made from high quality S925 silver.
Pendant size: 2.2cm x 1.1cm | 0.87in x 0.43in
Chain length: 39cm - 44cm | 15.35in - 17.32in
FAQs
Q: What is the pendant made out of?

A: The heart is made with high quality zircon.
Q: How long is the necklace chain?

A: The necklace is 39cm and can be adjusted up to 44cm. or 15.35in and can be adjusted to 17.32in.


Return Policy:
Our mission at bababestshop is for our customers to be absolutely amazed, astonished, and satisfied with our product. If there are any problems with our product, reach out to issue a return within 30 days and we will provide a 100% refund or do anything in our power to make it right, no questions asked.