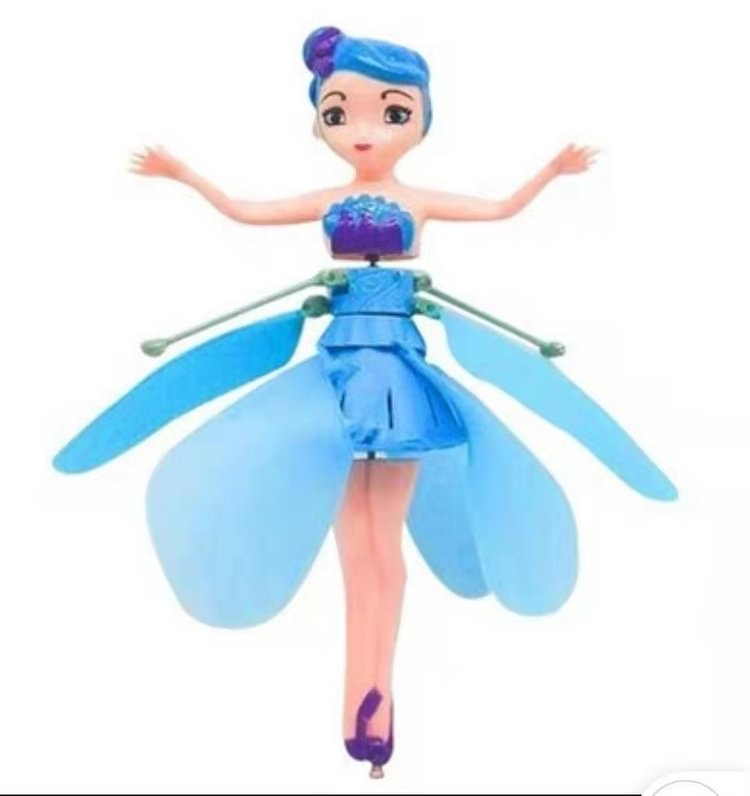 Flying Fairy Doll
Magical Flying fairy toy for girls And Random Little Gift, Flying drone doll
SPECIFICATIONS:
+Color: Blue, red, purple
+Material: Non-toxic ABS material, and electronic components
+Flight Time:about 8- 10 minutes
+Charging Time: About 20-25 minutes.






How to play flying fairy doll toys?
Precondition: in an unobstructed space.(Avoid being blocked on startup or damaging other things by mistake.)
1-) Bottom of skirt a small switch on/off switch on the bottom, slide switch on, and turn light on.
2-) Hold the flying doll vertically for 2-3 seconds,then release the doll from your hand and let it fly up. (Make sure the blades and the balance beams upwards.If is slanted it will probably fly to the wall.)
3-) When the flying doll starts to go down, put your hand underneath it for one second.
4-) If you want to turn off the flying doll, you can press the remote to stop it.
Remote controller: Thats that turns the rotors off and on. But it will not turn off the light,so you have to manually turn the flying toy off at the bottom (on/off switch).

---
This is the best gift for children
AMAZING MAGICAL CONTROL DOLL: Auto-sensing, during down flight, when it sense the object, it will automatically up flying.
NO NEED FOR A BATTERIES CHARGING WITH USB: We send the usb cable to you.
100% SATISFACTION GUARANTEE: We strongly stands behind each item it designs and sells.
Dimensions: 6.7 inches (H) x 1.6 inches (W) x 5.9 inches (L)
Package includes:
1 x RC Flying Fairy Doll
1 x USB charging cable
1 x Remote Control
4 x Spare Wing
FULL GUARANTEE INCLUDED
100% secure and protected payment
Zero risks in buying our products. If you have any issues with our products or the delivery, we're happy to offer a REPLACEMENT or FULL REFUND, no questions asked!