2022 Fire Extinguisher Mini Bar - New Fire Extinguisher Bar for Whiskey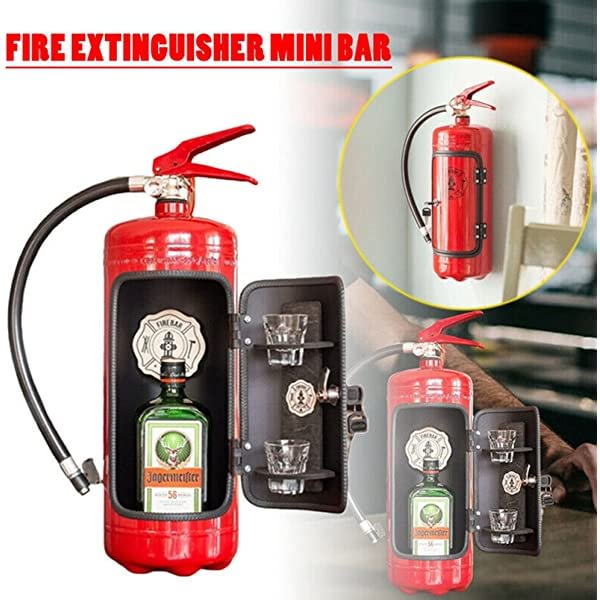 2022 Fire Extinguisher Mini Bar - New Fire Extinguisher Bar for Whiskey
【Perfect Gift】Quirky Gift For Whisky Loving Fireman Handmade Mini Bar Gift, Firefighter Special Gift Novelty Camping Picnic Bar, Whether it is an anniversary, wedding, birthday, the fire extinguisher mini bar is a great gift for yourself, friends and family.
【Perfect Size】Looking for a simple and exquisite gift for the spiritual lovers in your life? Give away elegant decorations and drinks with this gift tin bar set. Size: 30*11*11cm / 11.8 inchx3.93 inch.
【Novelty Liquor Wine Storage Boxes】 The mini bar in the form of a real fire extinguisher will undoubtedly become the original "package" of the drink, and can surprise anyone! Think about it, the surprised eyes when your friends see you carrying a fire extinguisher to a party, but open it and take out a bottle of whiskey.
【Hidden Fire Extinguisher Mini Bar Liquor】 The mini bar hides your spirit in the fire extinguisher, which seems to be integrated with the inside of the house, and does not reveal the fact that you store alcohol in it. Its original function is hidden, you won?t be able to see the prizes inside until you open the door on the back.
【Fire Extinguisher Mini Bar】The era of original gifts is gone. Do you want to creatively display a bottle of whiskey, wine, champagne or other beverages ???.
Item type:Fire Extinguisher Mini Bar(Excluding wine and glasses) Product description The mini bar in the form of a real fire extinguisher will undoubtedly become an original "packaging" for a beverage and will be able to surprise anyone! Other will not immediately guess what is hidden from a curious eye in a conventional fire extinguisher! Great unusual gift. Product description: Name:Fire extinguisher mini bar Size: 3.9*11.8inch Material:leather The package includes: The package includes: 1*Fire extinguisher mini bar, no glass and no bottle. Note: The color will be a little different due to the light and different monitor, please be understanding. Product size is manually measured, please allow 1-3 cm error, thank you for your understanding.