HONTUSEC 4G Solar Camera 3MP 8W Solar Panel PTZ Camera Outdoor Two Way Audio Solar Power Battery Long Standby IP Camera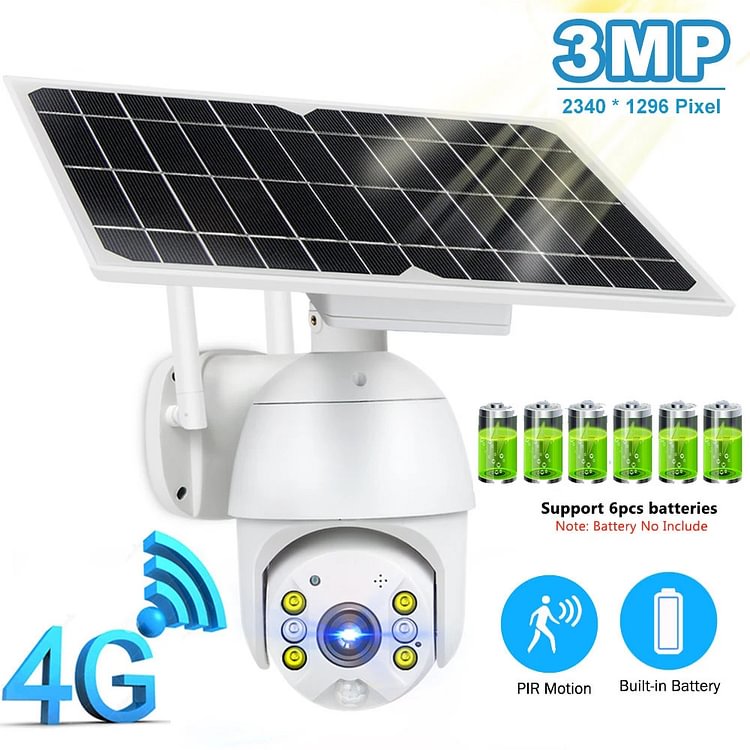 HONTUSEC 4G Solar Camera 3MP 8W Solar Panel PTZ Camera Outdoor Two Way Audio Solar Power Battery Long Standby IP Camera
Note: Dear friends, The camera requires six 18650 batteries. Shipped without batteries.please note the 4G SIM card standard: TD-LTE or FDD-LTE. If you want battery, please choose below models:
4G version:
1.Our camera uses only 4G SIM card and does not support connection to 3G / GSM / home WiFi.
No network LAN cable required! No need to set up wifi! No need to connect household wires and cables! Our 4G solar network.
2.Camera is mainly used in the environment without internet, can not supply power, but has SIM card mobile signal and sunny.You need to put the SIM card in the camera and connect to the internet through the SIM card.
3.Solar camera does not support router internet connection. 4G network camera supports Cloud FTP storage! 4G network cameras do not support local PC clients.
4.It supports mobile applications , iOS and Android systems. view anytime, anywhere. Supports two-way audio.
5. This product requires 6pcs 18650 batteries. Shipped without battery.
WIfi version:
1. This model does not support 4G function, usually need to use wifi network to connect the device. The store also offers a 4G version.
2. This product requires 6pcs 18650 batteries. Shipped without battery.
3.No need to connect household wires and cables! Supports wifi, no LAN cable required.
4.Using solar energy, energy saving and environmental protection, you can install it anywhere (requires Wifi network), such as gardens, farms, streets.
5.Uninterrupted solar panel work The rechargeable battery IP wifi camera can work continuously without the need to remove the battery to charge through an external solar panel.
365 Days Continuously Monitoring
8W Solar Panel + Built-in large capacity lithium battery(not included) dual power supply. Even if it is rainy or cloudy, it will not be powered off.
Only human and animal activities are detected and information is pushed.
New Upgrade Make Life Smarter
No need power supply, no need cable.
See everything in beautiful color and super clarity with this HD Camera. It helps you keep close eye on your lovely Children and pets. All captured by this camera will be presented to you via fluent and stunning videos.
Supports cloud storage and TF card local storage to meet the needs of different populations, TF Card max up to 128G, can storage for 25 days.
Energy saving, efficient and convenient, Save electricity, solar power.
Solar panel and machine itself solar energy, dual power generation, more stable.
Support Multiple People Multi-Platform Simultaneous Viewing
When surveillance videos can not satisfy you, we provide you real-time two-way audio. Camera is built with microphone and speaker. So you can talk to your kids via your smartphone remotely whenever you want.
This smart wireless camera has easy-to-install features and can be installed by itself.
Support one click wifi connection, and IP hotspot connection.
Built in microphone and speaker, no matter how far away, you can easily talk to the baby, Child, family through the camera in 24/7 remotely. Even if you are out of your home, through the camera, you can talk to the delivery man how to deal with your package.
If the PIR alarm function is enabled, the camera will send the alarm information to the user's mobile phone when someone invades the surveillance area.