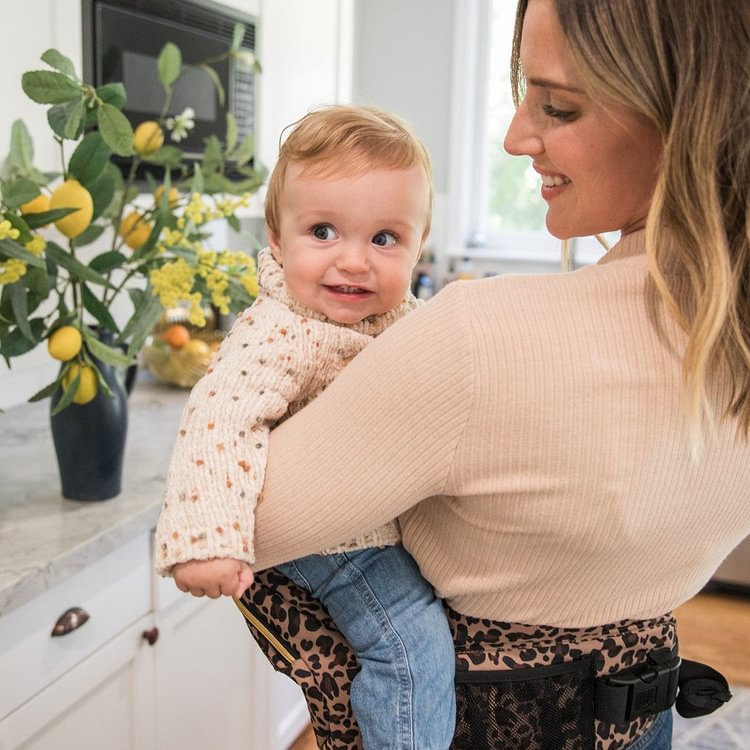 The Easy Way To Carry Your Kids Whether They Want Up, Down... Or Up Again.
Carry your kid. Stash your stuff. Save your back.
This carrier is a strapless, ergonomic hip seat baby carrier that evenly distributes your baby's weight, allowing you to carry your little one in longer and more comfortably.
Vary how you carry.
Ditch the difficult carriers and complicated shoulder straps. This carrier is changing the way parents carry their kids, this simple hip seat is flexible and supportive.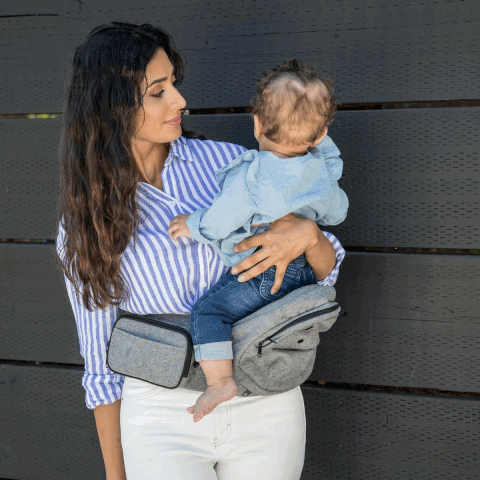 Stash your stuff.
Put diapers/wipes in the storage beneath the seat. Access your keys, phone, and wallet in the side pockets. Attach toys to the loops and tuck bottles in the holder.
Save your back.
Approved by pediatricians and orthopaedic surgeons, this harness places infants' hips in the pediatric-recommended "M" shape and reduces painful spinal curvature in adults.
Wear high and tight above your waist
Wrap it tightly around the smallest part of the waist to support your baby's weight and back.
Product Specs
Suitable for children 8 lbs - 45 lbs
Designed to fit waists 23-44" (add up to 23" with our belt extender)
Can be used for breastfeeding support
Weighs less than 1 lb
machine washable
1 year warranty
Belt measures 47"L x 6"H. Seat 6"L x 7.5"W (bottom/widest part)
Frequently Asked Questions
What is an infant hip seat carrier?

As our children grow from the newborn stage to the toddler stage, they can start to grow and get heavier. If you hold or hold children for long periods of time, their weight can put pressure on your back, shoulders, neck, and arms. Holding a baby isn't as easy as it was at birth. Infant hip seat carriers are specifically designed to help reduce some of the weight that can put pressure on your body and create uncomfortable tension that can lead to body aches, headaches and minor injuries. The Infant Hip Seat Carrier allows you to comfortably hold your toddler on your sides while using your stronger waist, hip and pelvic muscles to support your child's weight, not your arms (note: it distributes the weight evenly and absorb some of the weight), shoulder and neck muscles. The Infant Hip Seat Carrier makes it easy for you to go from holding your baby to putting it down so they can run free.

Are hip seats safe for babies?

Yes, hip seats are safe for babies and parents. This baby carrier hip seat baby carrier is free of harmful chemicals, approved by global safety standards and verified by SGS testing. SGS Testing is the world's leading testing and certification company. In addition to addressing the safety of the materials used to construct the hip seat, we also need to address how the proper use of an infant hip seat carrier can help keep your child safe and comfortable.

When can a hip seat support be used?

Hip seat belts can be used for newborn positions or breastfeeding support for newborns. Once your baby is ready to use the hip seat carrier, they can use it until they are too large for the device. This tends to happen when they are on average 3 years old. Once your child's neck muscles are strong enough to support the head on their own, you can start using the hip seat. However, the time at which this happens varies for each baby, usually between 4 and 6 months

Are hip seat belts easy to install?

Yes, hip seat belts are simple and easy. It's compact, folds quickly, and weighs less than 1 pound. The hip seat belt is easy to install yourself as it only requires one person to fasten the belt to the body.

Shipping and Returns
We offer fast and free shipping worldwide. Please note that all orders are processed and shipped within 1-3 business days.