Better Grooming - NOT YOUR AVERAGE RAZOR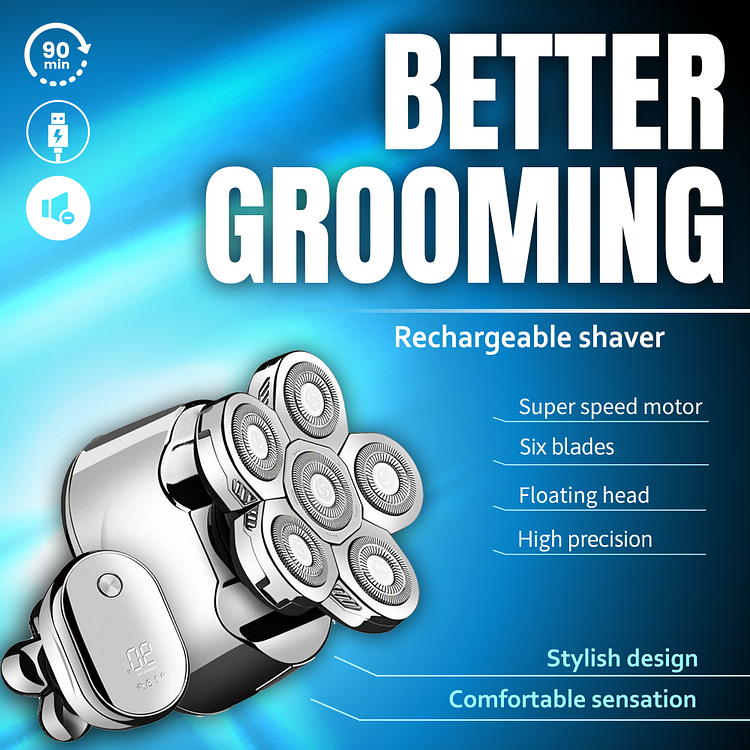 Better Grooming - NOT YOUR AVERAGE RAZOR
What makes it so easy to use?
Innovative design for maximum comfort
Redesigned and redesigned using best-in-class materials for unconventional comfort during the shave. It features our signature patented innovative ergonomic handle that's easy to grip and fits perfectly in your hand, ensuring a comfortable, intuitive shave for your head and face. Thanks to its unique design, the shaver easily reaches all hard-to-reach areas, ensuring impeccable results.
Professional performance
Explore the fourth generation with improved design and unmatched performance. The new models are built with high-quality materials using technologically advanced equipment and production facilities. This shaver features our new PRO blade design to ensure optimum performance and longevity.
Wet Shave in the Shower
This electric shaver is waterproof with IPX5 technology, allowing you to shave freely and conveniently in the shower (do not submerge the shaver in water). Of course, it's also great for dry shaving, providing a high-quality close shave and a great shave. Gives you the freedom to shave the way you like. Wet and dry use, with or without shaving foam. The results are impeccable every time.
Shave Anytime, Anywhere, with No Mess
Our electric shavers were invented for travel and are deeply ingrained in their DNA. Allows you to shave wet and dry in comfort, and shave anytime, anywhere. This blade is designed to catch hair cuts in the shaving room as well as on skin and shirts. Keep one in your car, office or private jet for a quick shave on the go.
No Nicks. No Cuts.
The rotary shaving heads make fast work of your stubble, allowing you to safely shave in any direction. No more painful nicks, stinging cuts, or raised scars that keep getting knicked. Our rotary shaving heads glide smoothly over irregularities and have won over customers with trouble areas due to birthmarks, freckles, scars, or those who simply cannot afford to break the skin.
90 minutes of cordless use
This electric shaver features a powerful integrated lithium-ion battery (1400 mAh) with fast charging for up to 90 minutes of cordless use. This gives you the freedom to shave anytime, anywhere. It also makes it a must-have for travelers who often need a quick shave on the go. The shaver also works perfectly in plug-and-play mode: a great option if you forget to charge it.
Battery life indicator
Know exactly when your shaver should be charged. The integrated LED illuminated LCD display clearly shows the battery level in percentages to make the daily use of your shaver even more practical. The performance of the shaver remains steadily strong until fully discharged.
Forte blade included: Made for Head Shaving Face Shaving
The redesigned PRO blades are made of high quality Japanese stainless steel to ensure a flawless shave for an exceptional close and safe shave. The upgraded blade offers several advantages over the 5-head design, making it ideal for covering large areas in a short amount of time.
Shave Faster
The multi-directional rotating shaving heads allow you to shave in any direction. Shave up, down, left, right, whatever works best for you. For best results, we recommend shaving in small circular motions. Compared to our previous generation blades, this blade has more blades per shaving head, delivering 20% more cutting action per revolution. All of this means a faster shave so you can get on with your life.
Exceptional Contouring
When shaving, specifically target your head or facial contours. Each blade floats independently, allowing a 360° profile. Each floating blade is mounted on a curved head that automatically adjusts to fit tighter or larger curves. This flexibility, combined, gives you better, more even coverage so you don't have to check for trouble spots as often. Shave faster and with less irritation.
Superior Performance
The blade is made of high quality hypoallergenic Japanese stainless steel. This steel was chosen for its ability to provide and maintain extremely sharp edges while offering a long service life. Keeping your precision blades clean will give you the longest blade life and best performance.
Less Irritation
One of the biggest sources of irritation is pushing too hard. The blade is spring-loaded and retracts fully into the housing if too much force is applied. The spring maintains the perfect pressure on your skin, greatly reducing irritation. If you press too hard, the shaver also slows down and makes a sound to remind you to reduce shaving pressure.
Deeper Cleaning
Removable blades come off in a snap making it easy to give your blades a deep clean inside and out. Keeping your blades clean will greatly extend blade life and keep your shaves as smooth as day 1.
Less Mess
The blades are designed to capture shaves in their large shaving chamber. Hair doesn't leave your skin and shirt, so you can always have a clean shave and look your best wherever you go.
Built Stronger
The brand new blade is stronger than any of our previous designs. Blades are suspended in a two-piece chassis for contour flexibility while holding them securely in place. The drivetrain has been relocated into a sealed cavity to prevent hairpins from entering the transmission, ensuring you always get consistent and smooth performance.
Shave Wet or Dry
The blades work well when shaving wet or dry. Shave with shaving cream, foam or oil. We recommend a wet shave with shaving cream for the smoothest shave.