Portable Diaper Changing Pad with Built-in Head Cushion Pad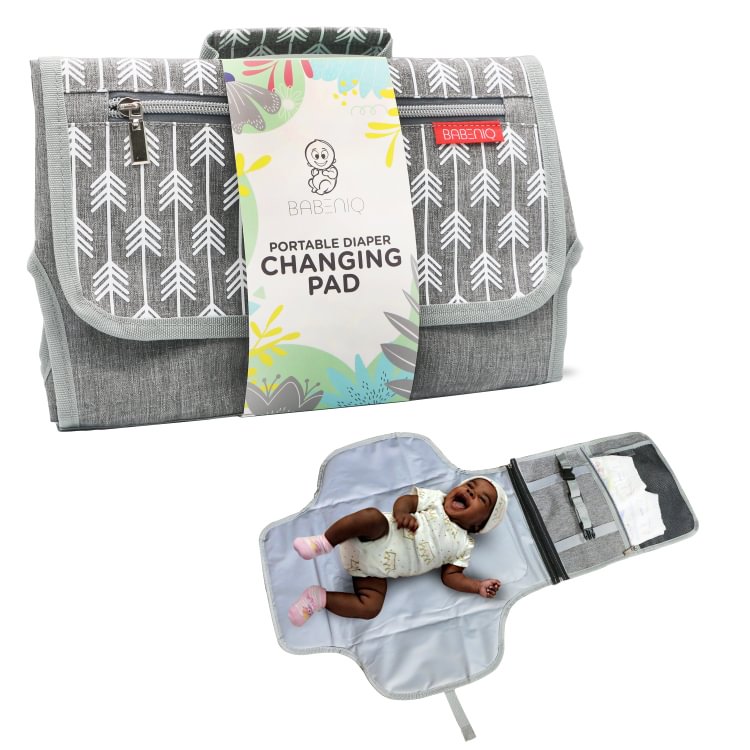 Portable Diaper Changing Pad with Built-in Head Cushion Pad
Memory Foam Built-in Pillow: The portable changing mat is very lightweight and compact when folded so you can change your baby's diaper anywhere. It has a soft cushioned pillow, and it is large enough for all babies for great comfort and convenience. The diaper changing pad with a built-in pillow, give your baby extra comfort.
Lightweight Diaper Clutch: No more lugging around large diaper bags or inconvenient changing pads. Our travel diaper change pad simply folds up into a small, convenient size and can be easily buckled aside your stroller for quick access.
Carry Handle & Clip Loop: The convenient strap allows you to easily strap it into your wrist, or clip it to your stroller, baby carrier, or diaper bag. The buckle clip closure and Velcro strap help you to efficiently unfold the diaper clutch. Especially when you are holding your baby, you will see how convenient it is.
Securely Stores Essentials: The outer pocket is perfect for moms and dad's things, while the 2 inner mesh pockets conveniently store baby necessities. Plus, you can detach this extra storage space when you just need a simple changing pad! Everything you need fits in this one ultra-durable and lightweight diaper clutch.
Zip-off Changing Pad: The diaper changing pad zips off if you need to detach it. It is convenient so you can throw the diaper changing mat into the washer. The waterproof nylon top makes cleaning a breeze. Simply wipe clean after use. Our baby changing mat is waterproof and easy to wipe clean. Designed to be wider around the diaper area, this changing mat helps you change the baby quickly and with minimal mess.
The Best Care for Your BABY & A Game Changer for YOU
Our portable diapering is an essentials kit that ensures that the baby is always clean, dry, and happy. Change your baby on a surface you trust with our Baby's portable changing mat! With its convenient-to-carry straps, mess-proof changing mat, multi-purpose Velcro straps and 4 storage pockets changing diapers on the go just got easier and cleaner!
Works on any surface and will turn grass, benches, or car seats into a safe and clean environment for your infant.
The three storage pockets give you plenty of room for storing baby's (or mom) essentials, such as diapers, burp cloths, wet wipes, pacifiers, and clips, or anything else your baby needs.
Each change mat also comes with a soft, baby-friendly head pillow to give them proper support and comfort when you lay them down for changing or a quick nap.