3-in-1 Butterup! Grater Knife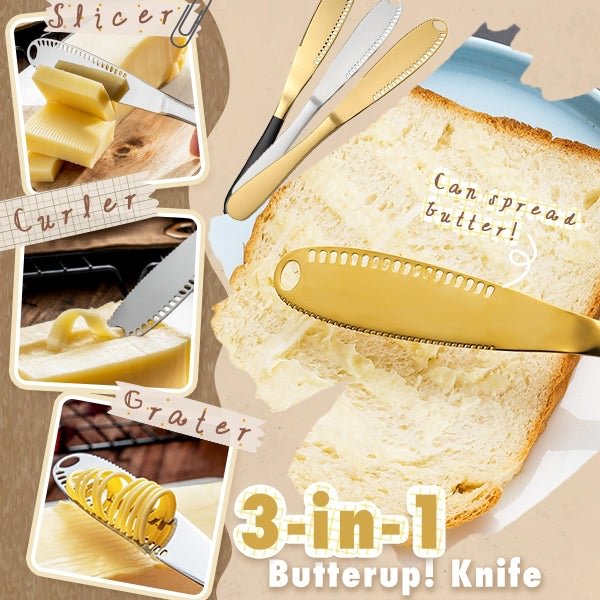 3-in-1 Butterup! Grater Knife
Brighten your morning by making a perfectly buttered toast with Butterup Knife!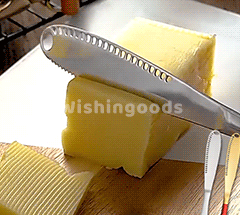 This creative butter knife universally combines functions of slicing, grating and curling, allowing you to butter a bread efficiently without switching to different tools.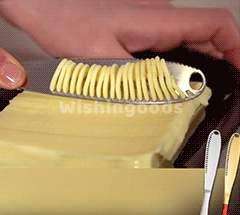 This stainless steel knife is crafted with a row of grating holes, easily grating chilled, rock-solid butter. The larger hole on the tip is for scooping out butter curls in slices. Both ways work for quicker spreadability! You'll feel the peace of bread buttering rather than suffering through ripped bread or randomly scattered lumps of hard butter! Also you may use the serrated edge as a normal knife for cutting food!
Never let warm toasts wait for cold, hard butter chunks!
FEATURES:
3-in-1 Butter Knife
Butter/cheese Grating + Slicing curler+ Butter spreading!
Smooth Buttering Tool
Crafted with a row of

grating holes, easily grating chilled, rock-solid butter

. The larger hole on the tip is for scooping out butter curls in slices. Both ways work for quicker yet smoother butter spreadability. No more ripped bread or randomly scattered lumps of hard butter!
Time-saving Design
Saves your breakfast preparation effort from softening butter by room temperature or microwave. Directly grate cold hard butter and spread it over toasts in seconds!
More than a Butter Knife!
Use it for spreading any toppings/sauces including honey, jam, peanut butter, tomato sauce, salad, cheese and more! And with sharp serrated edge, you may use it as a normal knife for slicing bread, steak, waffle etc.
Premium Material
Our cultery is made of stainless steel which provides durability as well as

resistance to rust and corrosion.

Also avoids staining that ruins your favorite cutlery set.
Dishwasher Safe
SPECIFICATIONS:
Material: Stainless Steel
Size: 20.5 x 2.5cm
Color: Gold / Gold Green / Gold Red / Gold Black / Silver / Silver Green / Silver Red / Silver Black
PACKAGE INCLUDES:
1 x 3-in-1 Butterup! Grater Knife